3월 4일자 구글 LatLong 블로그 소식
입니다.
엊그제
말씀드린 구글어스 위성영상/항공사진 추가지역에 관한 내용입니다.
아래 리스트에는 나와 있지 않지만, 이번엔 우리나라도 업데이트 되었습니다. 영상이 추가된 지역은 다음과 같습니다.
서울 동북부-의정부
군산 새만금 일대
울산 일원
제주 남부 일부

아래는 지도로 표시한 것입니다. 청록색 지역이 이번에 영상이 추가된 지역입니다. 직접 보고 싶으시면 아래에 있는 KML파일을 실행시켜 보시면 됩니다. (기존 영상추가지역까지 모두 포함되어 있습니다.)

image_update.kmz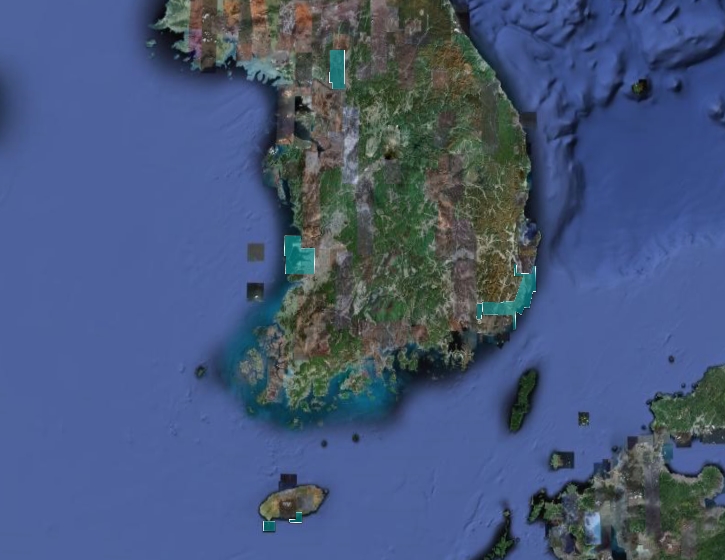 민, 푸른하늘
====
http://google-latlong.blogspot.com/2009/03/where-in-world-is-answers.html
Wednesday, March 4, 2009 at 11:30 AM
퀴즈를 푸시느라 수고들 많으셨습니다. 아래에는 퀴즈에 대한 해답과, 그 아래에는 이번에 갱신된 지역에 대한 전체 리스트가 있습니다.

1) This busy city is home to the world's largest shopping mall.
- Edmonton, Canada

2) A Viking Runestone was found in this 'Springtime Place' back in 1824.
- Upernavik, Greenland

3) This 'capital of happiness' was once a colonial capital.
- Salvador, Brazil

4) Parlez vous Francais? If so, you would be at home in this city, which is the second largest French speaking city in the world.
- Montreal, Canada

5) Though not quite complete, we've significantly improved our imagery coverage of this enormous river.
- Amazon River

6) The gateway to the highlands is now visible.
- Stirling, Scotland

7) Abandoned by settlers in 1541, this city is now the 2nd largest on it's continent.
- Buenos Aires

8) This city was twice the capitol of Persia, and recently hosted the International Physics Olympiad.
- Esfahan, Iran

9) Despite chilly temperatures, this city is sometimes called the Riviera of the North.
- Malmo, Sweden

10) We've upgraded imagery of pristine mountains, glaciers, lakes, rivers, and plains in this State.
- Alaska


Americas:

- USA: South Dakota, Wisconsin, Many Alaskan Parklands, Fairbanks


- Canada: Edmonton, Montreal, Antigonish, Faulder, Osoyoos, Apex, Keremeos, Naramata, Okanagan Falls, Olalla, Oliver, Princeton, Tulameen, East Gate


- Colombia: Medellin, Barranquilla, Bello, tulla


- Nicaragua: Managua


- Uruguay: Atlantida, Montevideo

- Guyana: Georgetown

- Chile: Talca


- Brazil: Belo Horizonte, Brazilia, Salvador, Goiania, Vila Velha, Betim, Atibaia, Amazon River


- Peru: Arequipa, Chincha Alta


- Argentina: Buenos Aires, Cordoba, Santa Fe, Ipatinga, Palmas




Europe, Middle East, & Africa:

- France: Pyrenees-Atlantiques, Hautes-Pyrenees, Rhone-Alpes, Rhone, Jura, Haute-Saone, Haut-Rhin, Indre-et-Loire, Vendee, Ille-et-Vilaine


- UK: Edinburgh, Newcastle, Middlesbrough, Billingham, Sheffield, York, Hull, Sunderland


- Sweden: Alingsas, Alvsbyn, Arjeplog, Arvidsjaur, Boras, Eskilstuna, Finspang, Fagersta, Boden, Eksjo, Enkoping, Helsingborg, Are, Avesta, Borlange, Hasselholm, Almhult, Arvika, Astorp, Halmastad, Alvesta, Angelholm, Tranas, Uddevalla, Uppsala, Vanersborg, Varberg, Varnamo, Casteras, Vetlanda, Haparanda, Kirstinehamn, Falkenberg, Falun, Gallivare, Gislaved, Hedemora, Hoganas, Jonkoping, Kalix, Karlshamn, Karlskrona, Klippan, Kungalv, Kungsbacka, Ljungby, Lycksele, Malmo, Norrtalje, Sunne, Ostersund, Saffle, Sodertalje, Stenungsund, Strangnas, Stromsund, Arboga, Bollnas, Eslov, Falkoping, Gavle, Hallstahammar, Harnosand, Hudiksvall, Karlstad, Katrineholm, Lidkoping, Lulea, Jokkmokk, Kalmar, Kinna, Kiruna, Koping, Kristianstad, Landskrona, Lund, Motala, Onsala, Oxelosund, Sigtuna, Oskarshamn, Ronneby, Trollhattan, Vadstena, Umea, Vastervik, Vaxjo, Ystad, Visby, Hoegland, Hoernett


- Greenland: Aappilattoq, Aasiaat, Akunnaaq, Alluitsup, Ammassivik, Arsuk, Atammik, Attu, Eqalugaarsuit, Igaliku, Iginniarfik, Ikamiut, Ikerasaak, Ilimanaq, Illoqqortmiut, Illorsuit, Ilulissat, Innaarsuit, Isotoq, Itterajivit, Kangaamiut, Kangerluk, Kangerlussuaq, Kangersuatiaq, Kapisillit, Kitsissuarsuit, Kullorsuaq, Kulusuk, Kuumiut, Maniitsoq, Naajaat, Nanotralik, Napasoq, Narsaq, Narsarsuaq, Nerlerit Inaat, Niaqornaarsuk, Nuuk, Nuussiaq, Oqaatsut, Paamiut, Qaanaaq, Qaarsut, Qaqortoq, Qasigiannguit, Qassiarsuk, Qassimiut, Qegertarsuaq, Qeqertarsuatsiaat, Saarloq, Saqqaq, Saattut, Sarfannguit, Savissivik, Sermiligaaq, Siorapaluk, Sisimiut, Tasiusaq, Tiniteqilaaq, Tussaaq, Ukkusissat, Upernavik, Uummannaq, Moriusaq, Tasiilaq, Vsskemgf (sorry, that last one was a sneeze).


- Italy: Terni, Genoa, Naples, Torino, Pisa, Brescia,


- Switzerland: Nidwalden, Obwalden


- Greece: Athens, Thessaloniki,


- Bosnia and Herzegovinia: Sarajevo

- Croatia: Zagreb

- Moldova: Chisnau

- Russia: Samara, Izhevsk, Yaroslavl, Tomsk, Cheboksary, Cherepovets,


- Iran: Esfahan, Kerman

- Qatar: Doha

- Saudi Arabia: Tabuk,


- Tunisia: Tunis

- Egypt: Tanta, Damanhur, Banha, Minuf


- Morocco: Rabat, Oujda, Meknes


- Senegal: Dakar

- Somalia: Mogadishu


- Angola: Lobito, Lubango

- Ghana: Tamale


- Mali: Bamako


- Uganda: Kampala

- Nigeria: Kaduna, Kano, Wukari


- Kenya: Ruiru


- Central African Republic: Bangui


- Sierra Leone: Freetown

- Ivory Coast: Abidjan, Korhogo


- Namibia: Windhoek

- Madagascar: Tamatave





Asia & Oceania:

- China: Anshan, Fushun, Benxi, Changzhou, Anqing


- India: Pune, Pimpri, Jamshedpur, Muzaffarpur, Latur, Sambhal, Amroha, Tenali, Navsari, Bhuj, Bankura, Begusarai, Chas, Buxar, Sujangarh, Dod Ballapur, Madhuban, Valsad, Sirsi, Borsad, Ladnun, Petlad, Kanakapura


- Pakistan: Peshawar, Jacobabad


- Bangladesh: Chittagong

- Kazahkstan: Shymkent

- Uzbekistan: Namagan, Navoiy





New 2.5m base imagery for: Mexico and Turkey


New Terrain for: Wollongong, Whitsunday Islands, Perth, Hobart, Geelong, Canberra, Cairnes, Adelaide, Honolulu, LA, and Santa Rosa.

====
구글 LatLong 블로그 목록 : http://heomin61.tistory.com/6