4월 4일자
구글 LatLong 블로그
소식입니다.
4월1일에 발표된 구글어스 영상추가 소식
에 포함되었던 퀴즈에 대한 해답과, 이번에 추가 또는 갱신된 지역의 전체 리스트입니다.
우리나라 지역에 대해서 영상이 추가된 지역은 다음과 같습니다.
- South Korea:
의정부, 천안
- North Korea:
전국 2.5m 영상
영상이 갱신된 지역은 다음과 같고요.
- South Korea:
대구
결론적으로 남한지역은 의정부, 천안, 대구 지역만 추가 또는 갱신되었다고 되어있습니다. 그러나, 제가 엊그제 올린
구글어스 영상 추가지역 확인방법
을 보시면 이보다 훨씬 더 많다는 것을 아실 수 있습니다.
아래가 그 결과입니다. 초록색으로 표시된 곳은 2.5미터짜리 SPOT영상이 추가된 곳이며, 노란색으로 된 곳은 60cm짜리 고해상도 QuickBird 영상이 추가된 곳입니다. 직접 보고 싶으시면 아래에 있는 KML파일을 실행시켜 보시기 바랍니다.

invalid-file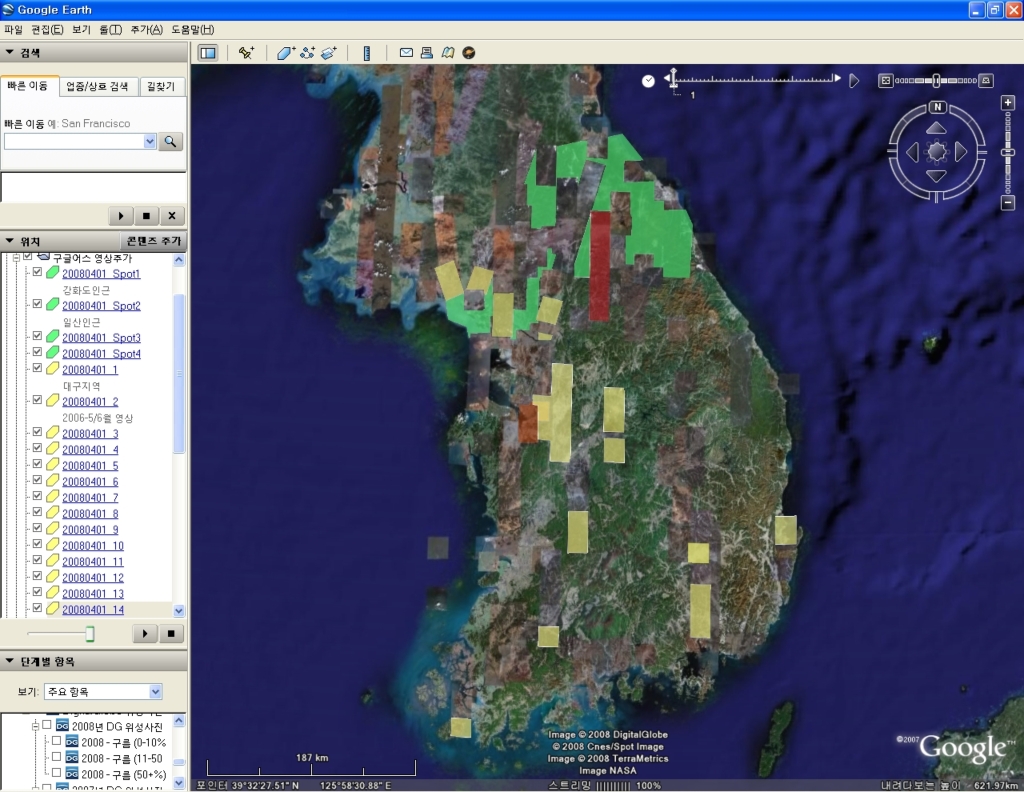 제가 북한지역은 확인해 보지 않았지만, 북한지역 전체가 2.5미터짜리 SPOT 영상으로 대체되었고, 그 밖에도 60cm 짜리 QuickBird 영상도 다수 갱신되었다고 합니다.
민, 푸른하늘
====
(Where in the world is... (answers))
http://google-latlong.blogspot.com/2008/04/where-in-world-is-answers.html
Friday, April 4, 2008 at 8:20 AM
여러분 수고 많으셨습니다!
1) The fans of 'Sweet Lou' get to see his three cities updated.
-- New York, Seattle, and Chicago (referencing Lou Piniella, a beloved baseball figure in these three cities)
2) This town has the longest railway station name in the UK

--
Llanfairpwllgwyngyllgogerychwyrndrobwyll-llantysiliogogogoch, Wales

3) In 1860, Sir Rutherford Alcock was the first foreigner to climb this mountain.
-- Mt Fuji, Japan


4)
This major U.S. city was granted "town" status on February 2, 1856.
-- Dallas, TX

5) A major tourist destination and UNESCO World Heritage Site, this city is also home to one
of the richest silver mines in the world.
--
Guanajuato, Mexico
6) This town, founded in 1514, was the departure point for the Francisco Hernandez de
Cordova (1517) and Cortez (1518) expeditions.
-- Trinidad, Cuba

7) With over 100 buildings, including a bowling alley, this site is home to the largest community on its continent.
-- McMurdo Station, Antarctica
8) With tales of great treasure, a German geologist led an expedition up the face of this very
large mountain in 1883.
--
Cerro Aconcagua, Argentina
9) On the verge of being devoured by the Sahara, this town, which was once a center of learning, is a Moorish architectural jewel.
-- Chinguetti, Mauritania
10) Now visible in Google Earth, this enormous dam will not be fully functional until 2011.
-- Three Gorges Dam, China
다음은 이번에 영상이 추가되었거나 갱신된 지역을 나열한 것입니다.
New high resolution:
Americas:
- Canada: British Columbia, Catham (ON), London (ON), Guelph (ON), Meadford (ON), Thornburry (ON), parts of Division 15 and 6 (MB), Peterborough (ON), Catham (ON), Vancouver Island (BC), Sainte-Marie (QC)
- USA: Sitka (AK), Warren County (TN), Dayton (OH), Greenville (SC), Kingsport (TN), Lufkin (TX)
- Mexico: Tehuacan, Poza Rica, Cordoba, San Cristobal, Tulancingo, Comitan, Guanajuato, Texmelucan, Valle Hermoso, Etzatlan, Ocotlan, Bernal
- Bolivia: Camiri, Monteagudo, Paracti
- Cuba: El Cobre, Puerto Padre, Santa Lucia, Trinidad, Manicaragua, Placetas, Rodas, Guines, Artemisa, Guanajay, Consolacion del Sur
- Colombia: Barrancabermeja, Cartaga, Magangue, Piedecuesta, Ipiales, Plato, Pajuil, Pitalito,
- Costa Rica: Manuel Antonio, Cartago, San Ramon
- Brazil: Santa Maria, Taubate, Angra dos Reis, Alagoinhas, Garanhuns, Santa Cruz do Sul, Catolina, Cruz Alta, Congonhas, Rolandia, Leopoldina, Itaqui, Panambi, Rio Pardo, Piraju, Santa Quiteria, Ibirama, Orleans, Cristalina, Garanhuns, Arapiraca, Armacao dos Buzios, Peruibe, Vacaria
- Guatemala: Puerto Barrios, Coban, Iglesia, San Marcos, Soloma, Chiquimula
- Honduras: Puerto Cortes, Tela, Catacamas, Santa Rosa, El Progreso
- Nicaragua: El Viejo, Bluefields, Boaco
- Panama: Puerto Armuelles, Boquete, Santiago, Gatun
- Paraguay: Horqueta, Sapucai
- Argentina: Junin, Zarate, Gualeguay, Mercedes, Balcarce, Purmamarca, Esquina, Baradero, Justo Darat, Aguilares, Alvear
- Chile: 2.5m imagery for the northern half of the country

Europe, Middle East & Africa:
- Spain: Guadalajara, Almunecar, Almagro
- Italy: Trani, Corato, Pizzo, Artena
- Portugal: Costelo Branco, Ovar
- Wales: entire country
- Norway: Kristiansand
- Finland: Muurame
- France: Bourdeaux, Istres, Montbeliard
- Sweden: Angelholm, Sodertalje
- Romania: Lasi, Brasov, Ploiesti, Bralia, Hunedoara, Deva, Lugoj
- Russia: Belovo, Anapa, Novgorod
- Serbia: Subotica, Novi Pazar
- Hungary: Szeged, Tiszaujvaros, Kecel, Kiskoros
- Greece: Janina, Lamia, Kavala, Makri, Pilos, Monemvassia, Kastro, Astipalea, Leros, Symi
- Poland: Swarzedz, Lapy
- The Ukraine: Poltava, Kerch, Feodosiia, Torez, Khotyn, Chernihiv
- Belarus: Dzerzhinsk, Smorgon, Borisov, Ivanovo, Barslaw, Miory
- Bulgaria: Velingrad, Peshtera, Chirpan, Rakovski, Omurtag, Kotel
- Croatia: Metkovic, Sibenik
- Estonia: Tartu, Viljandi, Voru, Pechory, Jovega, Poltsamaa, Johvi, Rakvere, Keila
- Lithuania: Pabrade, Pakruojis
- Latvia: Talsi, Gramzda
- Slovenia: Trebnj
- Bosnia and Herzegovina: Capljina
- Cape Verde: almost entire country
- Turkey: Trabzon, Diyarbakir, Eskisehir, Samsun, Adapazari, Sivas, Turgutlu, Anamur
- Tunisia: Jamnah, Arhir, Taguermess, Gabes, Sfax, Chebba, Bekalta, Kasserine, Metlaoui, Tozeur
- Somalia: Eyl
- Sudan: Umm Ruwabah, Sinjay, Shuwak
- Syria: Idlib, Manbij, Ariha, As Suwayda
- Moldova: Chisinau, Rybnica
- Algeria: Constantine, Annaba, Tindouf, In Salah, Tiaret, Collo, Jijel, Guelma, Tlemcen, Kenadsa
- Central African Republic: Iawa, Goubali
- Chad: Sarh, Mongo, Ati, Oum Hadjer
- Niger: Agades, Ayorou, Tassessat
- Angola: Kuito
- Oman: Muttrah
- Siera Leon: Bo, Daru
- Malawi: Blantyre, Zomba
- Morocco: Oujda, Kenitra, Beni Mellal, Larache, Berrechid, Oualidia, Sidi Slimane, Midelt, Khenifra, Ifrane
- Mauritania: Atar, Terjit, Chinguetti, Oualata
- Mali: Kolondieba, Yanfolila, Sikasso, San, Segou, Dire
- Guinea: Kankan, Kouroussa, Faranah, Dabola, Dinguiraye, Labe
- Ethiopia: Weldiya, Wikro, Debark
- Democratic Republic of the Congo: Mwene-Ditu, Kananga, Mweka, Mbanza-Ngungu, Buta
- Djibouti: Obock
- Libya: Banghazi, Tobruk, Darnah
- Faeroe Islands: Hvalba, Sumba, Gjogv
- Eritrea: Keren, Tessenei
- Mozambique: Tete
- Burinka Faso: Garango, Kaya, Djibo, Orodara, Gorom-Gorom
- Benin: Dijougou, Dassa-Zoume, Kouande
- South Africa: 2.5m imagery for the entire country
- Namibia: 2.5m imagery for the entire country
- Botswana: 2.5m imagery for the entire country
- Zimbabwe: 2.5m imagery for the entire country
- Lesotho: 2.5m imagery for the entire country
- Swaziland: 2.5m imagery for the entire country

Asia & Oceania:
- Japan: Mt Fuji, Sasayama, Mukaigatao, Biei, Tochigi
- Taiwan: Chia-li, Ma-tou
- Thailand: Hat Yai, Ubon Ratchathani, Pattani, Warin Chamrap, Mukdahan,
- Kazakhstan: Shakhtinsk, Kulsary, Saran, Atbasar, Kokchetav, Aksay
- Laos: Wat Phou
- Armenia: Abovyan, Kirovakan
- Thailand: Nai Muang, Ban Dong Tong
- Georgia: Sukhumi, Khashuri, Kareli
- China: Three Gorges Dam, Guiping, Chin-men
- Vanuatu: Port-Vila
- Azerbaijan: Agdam, Agdzhabedy, Gobustan, Kuba, Kusary, Sheki, Zakataly
- South Korea: Euijeongbu, Cheonan
- North Korea: 2.5m imagery for the entire country
- Australia: 2.5m imagery for New South Wales & part of Western Australia

Updated Imagery:
Americas:
- Canada: Vancouver (BC), Sarina (ON), Brantford (ON), Birmingham,
- USA: Seattle, Dallas, Chicago, part of New York City, Round Rock (TX), Marble Falls (TX), Polk County (FL), Mecklenburg County (NC), Montgomery County (OH), much of eastern PA
- Mexico: Zacatecas, Aquascalientes, Durango, Merida
- Guatemala: Guatemala City
- Honduras: Tegucigalpa
Europe, Middle East & Africa:
- England: Brixham, Paignton, Oxford, Nottingham
- Spain: Malaga, Marbella, Zaragoza
- Italy: Genoa, Rimini, Palermo
- Greece: Kalamaria, Messolonghi, Patra
- Bulgaria: Plovdiv
- Moldova: Chisinau, Beltsy
- The Ukraine: Dnepropetrovsk
- Morocco: Tanger, Fes, Meknes, Rabat, El Jadida, Safi, Agadir
- Guinea: Conakry
- Somalia: Mogadishu

Asia & Oceania:
- China: Beijing, Haikou, Guangzhou, Wuhan, Nanjing
- South Korea: Daegu
Updated Terrain:
- Montbeliard, France
- Fort Saskatchewan, Canada
- Portugal
- Antarctica
====
구글 LatLong 블로그 목록 : http://heomin61.tistory.com/6